Welcome to BellyArtist Dance in Ocala, FL and Woodbury, TN
Learn the art of sword, fan, and skirt dancing thru the lens of community-based dance. 
If you enjoy learning, crafting, dancing, music, books, travel, and building friendships... then I want to meet you!
Meet Abby Sol:
Originally from Middle Tennessee, I have studied BellyDance since 2004, performing with bands, at conventions, in festivals and music videos. I have studied a variety of styles and consider myself a lover of dance, specifically any dance that brings community together. Through weaving my interests in Tribal Improv/ Fusion, Egyptian, Folkloric, Romani, Persian, Flamenco, and Latin dances, I hope to connect dancers together through the language of movement.
I have completed the following programs to continue my dance education:
Certified Level 1 Teacher of Global Caravan Tribal BellyDance
Certified Global Caravan Tribal Grooves Instructor

Dance Cohesion Stage 1 Teacher
Influential teachers along my path:
Nichole Hanna - World Fusion Bellydance
Najmah Nour - Flamenco Arabe

Misha Cain-Nell - Global Caravan Tribal Bellydance Master Instructor

April Rose - Raqs Sharqi and Frame Drum/Finger Cymbals

Miriam Peretz - Nava Style Persian/Doira Dance

Danielle Elizabeth - Baksana Folk Fusion Improv and Finger Cymbals

Amir Etemadzadeh - Persian Frame Drum

Marla Leigh - Frame Drum
It is my intention to encourage students to discover their unique talents and creativity while building the confidence to share it through dance. There are so many styles and teachers of dance to experience. I can teach you the basics but the rest is up to you. I believe that through dance, people can learn to accept and love themselves. Discrimination free zone.
New dancers, experienced dancers, non dancers, bad dancers, shy dancers, geeky dancers... All are welcome!
Meet Alana McKnight:
Alana has a mixed and varied past, one full of mystery, intrigue, and probably a few dragons. Through her travels she has been a: massage therapist, mixed weapons instructor, katana sword competitor, qigong instructor, and now she is here with us as a dance instructor. Full of energy and smiles, Alana's other interests include anime, baking amazing desserts, and creating hair fascinators. Alana teaches Fusion Belly Dance, Neo-Swing and Swordsmanship (as well as other martial props)
Take A Class
In Person with Abby Sol - Woodbury, TN
Drop-ins $15 for 4 week session = $60,
Paid in Full, $12 for 4 week session = $48
Tues. Nov 14, 2023 at 8pm (4 week session) Belly Dance Basics-Karsilama Edition, Spirit Oak Lodge, https://www.spiritoaklodge.org 7840 Manus Rd. Readyville, TN 37127
In Person with Alana McKnight - Ocala, FL
Online
Prerecorded classes available online. Sign up at BellyArtist Online
Contact and Updates
Email: bel lyarti stcafe @ gm ail. com (remove spaces)

If you are interested in staying in the loop, consider signing up for our monthly newsletter. See Below :)
Social Media:
Instagram @bellyartistdance
Facebook BellyArtist Studio







Check your inbox to confirm your subscription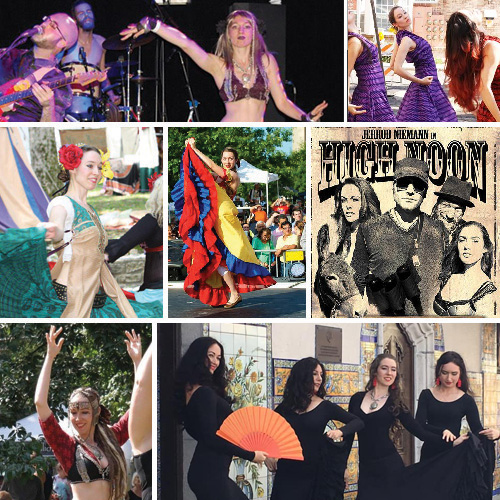 Abby Sol - Instructor (Tennessee)
Global Caravan Level 1 and 2 Tribal Belly dance, Dance Cohesion Dance and Drum Loop Training
(Top Left) Aeronauts Band-Nashville, TN (Top Right) Gainesville, FL Art Fest, (Mid Left) TN Renaissance Festival, (Mid Center) Latin Festival-Lexington, KY (Mid Left) Journey to High Noon Video for Jarrod Nieman (Bottom Left) Woodland Arts Fair-Lexington, KY (Bottom Right) Ybor City, FL Latin Festival.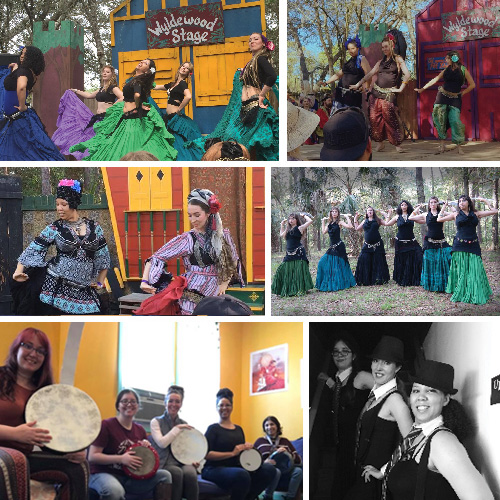 BellyArtist Dancers in Action
(Top Left) 2nd Place-Amateur Ensemble-Bay Area Renaissance Fest 2017, (Top Right) 1st Place-Pro Ensemble-Bay Area Renaissance Fest 2019, (Mid Left) 1st Place-Troupe Category-Hoggetowne Medieval Fair 2020, (Mid Right) Shimmy Mob Hafla 2016 (Bottom Left) Drum and Cookies Club (Bottom Right) Spring Fest Neo Swing Choreography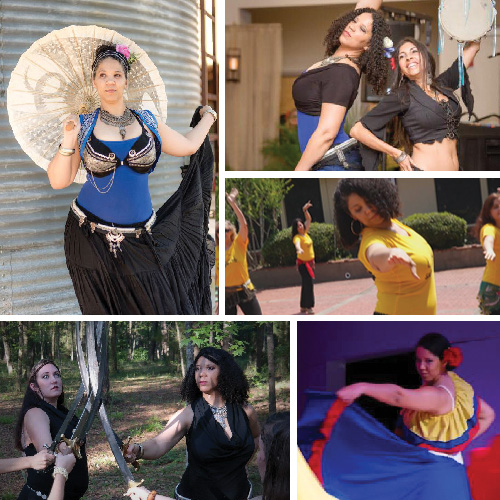 Alana - Instructor (Florida)
Fusion Belly Dance, Neo-Swing, Swordsmanship and Basic Darbuka

(Top Left) Red, White and Blue Festival 2020, (Top Right) Private Latin Party 2017, (Middle) Shimmy Mob 2017 (Bottom Left) Witcher Choreography at Hip Moves Half 2016, (Bottom Right) Ocala Arts Festival the night of Hurricane Irma
Choreography Credits: The Witcher Sword, La Caravane-Neo Swing and Frantically Flying Skirts
BellyArtist Studio at the Red, White, and Blue Festival - 2020
Class Descriptions
BellyDance Basics - Dance Cohesion® format
Movement, music, and history. Classic raq sharqi and fusion styles. Through deliberate practice of technique drills, you will learn the basics of simple and elegant isolation, vibration, and undulation-based movement. With level-up options, the exercises are infinitely scalable toward greater richness and complexity. As you progress through the stages, you will learn phrases and combinations which can be arranged into choreography or structured improvisation.
Drumming - Dance Cohesion® format
By playing Middle Eastern rhythms on the frame drum and learning to identify the qualities of various instruments and standard songs, you will intimately acquaint yourself with the music that has typically accompanied raqs sharqi. To know this music and to be able to play some of it yourself is incredibly empowering and aligns you with the skills of dancers who originally developed this art.
Global Caravan (T) Belly Dance® Level 1 -
Begin your Troupe Improv BellyDance journey with the basic foundation of movements in our vocabulary, We will introduce you to zils (no dancing with them in this level) and discuss the concepts of dancing in formations with your dance family.
Open to all. No prerequisites required. BellyDance Basics class recommended for over achievers.
Global Caravan (T) Belly Dance® Level 2 -
Continue with the next level of your Global Caravan training. Learn more zil patterns, try out formations, and expand your movement vocabulary. Open to those who have completed Level 1.
Global Caravan (T) Grooves® -
A fun based, get your body moving, low impact dance class. This is an exciting and invigorating dance format using Global Caravan (T) Bellydance®. to explore various styles of dance including: Flamenco, Latin Dances, North African, and Moroccan. Follow along to simple flow combos with world and contemporary music. Learn how to transition the moves you have already learned or just groove out to get your blood flowing and spirit soaring.
This is a drop-in style class.
Choreography Class -
A four week class teaching a choreographed dance piece. Three Rehearsals included with price of class series.
Class & Community Guidelines
CLASS GUIDELINES:
• Arrive punctually with plenty of time to change into your dance attire before class begins.
• If you are late, quietly enter the room and position yourself on the floor at the back of the class.
• If you are early for your class and have the privilege of watching another class in progress, please keep quiet. The music is never too loud to drown out your whisper.
• Wear the proper attire to your class. For example, your teacher may prefer leggings so she can see your knees and more easily correct your alignment.
• Have your props (skirt, zils, swords, fan etc.) and accessories available and ready.
• Avoid wearing hip scarves that are falling apart and litter the floor with coins and beads.
• Do not tread wet shoes and belongings onto the dance floor.
• Do not assume it is OK to advertise or put out flyers for anything without permission.
• Once class begins, be quiet and pay attention to the instructor. Do not talk, joke or whisper to classmates while the instructor is talking / teaching.
• Please do no chew gum or eat during class.
• Please do no answer your cellphone during class – please put it on silent.
• Leave with all of your belongings. Do not leave litter behind in the class, this includes empty water bottles.
• At times your class may be split into groups or each student may be asked to practice movement individually across the floor. At such times, when it is not your turn on the dance floor, you should focus on those who are dancing. Instead of daydreaming or talking, visualize yourself so that when it is your turn, you will do it right.
• Treat others with respect and courtesy. You do not have to be friends with everyone, but you can at least be polite.
• Be aware of maintaining your own dance space. It is never enjoyable to practice with someone whose arms flail wildly or cannot control a turn and bangs into everyone around her.
• Be considerate of students around you. People learn at different rates and in different ways. Be patient with others who may not grasp the movement as quickly as you do. Spend the extra time the teacher is taking with the 'slower' student, to refine the movement you have just learned.
HONOR YOUR INSTRUCTOR:
• If your instructor assigns homework, please do it to the best of your ability.
• If you are ill or injured, inform the instructor before class begins so she is aware of your limitations.
• Remember, choreographies are the property of the teacher. Generally, a teacher gives permission to perform her choreographies when she teaches them. However, this does not give you the right to teach the choreography to other students or even your own troupe members. Ask the teacher for her policy regarding this very important legal issue.
• There is no right or wrong name to a movement in Belly Dance. Yes, you have had another teacher somewhere who called that movement ―The Washing Machine. Keep in mind, this dance has been passed on from one dancer to the next since the beginning of time. The movements do not have standardized names. Teachers generally call a movement what their teacher called it.
• Take notes when sitting out of active participation. If for some reason, you absolutely cannot continue the class -- you are too tired, too hungry, cramps, etc. -- understand you do not have to leave. Sit in the corner and take notes. Please do not converse with other students.
• Let the teacher teach. If you are a teacher, please do not voice an opinion in another teacher's class, unless you are asked to do so.
• Keep an open mind and please do not complain. Be open to new ideas and possibilities. Try to focus on how your new teacher can expand your dance repertoire.
HONOR YOURSELF:
• Practice good posture at all times.
• Accept correction as positive criticism. Your instructor is not picking on you. A good teacher makes clear, direct correction and is not afraid to be honest. View criticism as an opportunity to grow.
• Put your troubles aside and clear your mind. Allow class to release your tension.
• Cleanliness and personal hygiene show that you honour yourself by example.
• Do not openly disagree with your instructor. Do not openly criticize your teacher. Rather talk to your instructor at the end of the class and not in front of all the students. If you feel you are always disagreeing with your instructor, you may need to find another instructor.
• Courteously ask intelligent, thought-provoking questions. Don't be afraid to ask questions. Chances are other students are wondering the same thing.
• Take pride in your studio, your instructor, your classmates, yourself, but always maintain humility, no matter how good a dancer you become.
- Modified from the Dancing Divinity Dance Company
COMMUNITY GUIDELINES:
To My Sisters/Brothers In Dance
I will not point out your failures
I will not expound upon our differences
I will not show you disrespect
I will let you dance first at the hafla
I will give you the recognition you deserve
I will consider your suggestions
You Are My Sister/Brother
At public performances,
I will not criticize my troupe mates performance
I will not comment on mistakes other dancers make
I will not hog the spotlight
I will come on time and prepared to our performances
I will not behave or speak offensively in ear shot of the viewing public
I will not leave early, I will show respect to the other performers by staying till the end of the showcase
At dance community events,
I will not gossip about other dancers
I will socialize and network with other dancers, including them in conversations
I will not demean myself, but thank someone when I am given a compliment
We Are Better Together Than Apart